News & Pics
Old Stories
Just For Fun...
Upcoming Events
Our Calendar
House Rules
Maps & Directions
Members
Cool Links
Home

Copyright© 2018
All Rights Reserved.
E-Mail: rand@rpmwebpros.com

SCENES FROM LAST (2017) SKI SEASON
---
First Weeklend in March, 2017- COLD and FUN
While the weekend was pretty cold, the conditions were pretty good. And we all dressed accordingly so it was a good time on and off the slopes. Plus, the cold temps scared many and so there were no lift lines.

Stratton had the Luster Kings perform at Grizzley's which was good as the qualty of music is a big improvement over the Stratton Mountain Boys of years past.

Liz showed off how she kept her head warm. The question is, "Does she have a matching Burkini?
---
President's Week 2017- Full House and FUN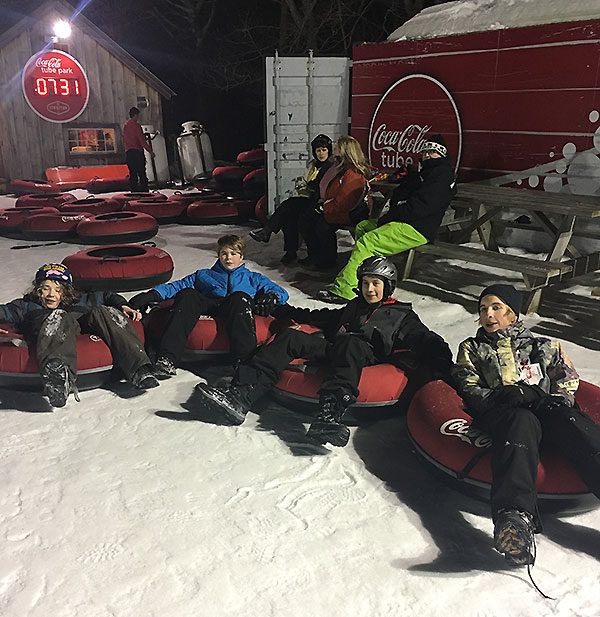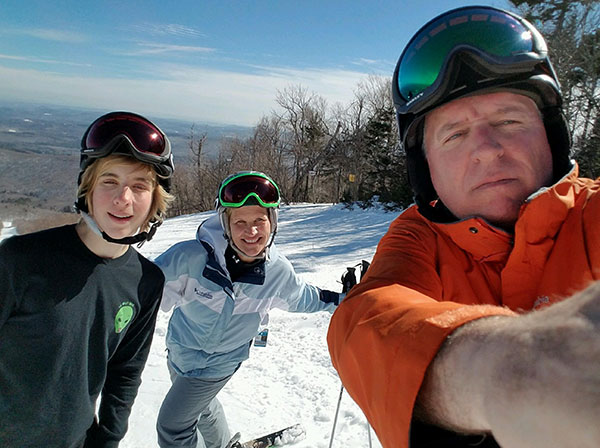 ---
Fresh Snow Makes for a GREAT Weekend
The weekend of February 11-12 was a fun time for all with all the fresh snow. Kudos for Katherine racing as she came away with a first place medal on Saturday at Stratton. Rand was fortunate to get to stay an extra day on Monday as its snowed well over a foot Sunday into Monday. Below are Monday's pics.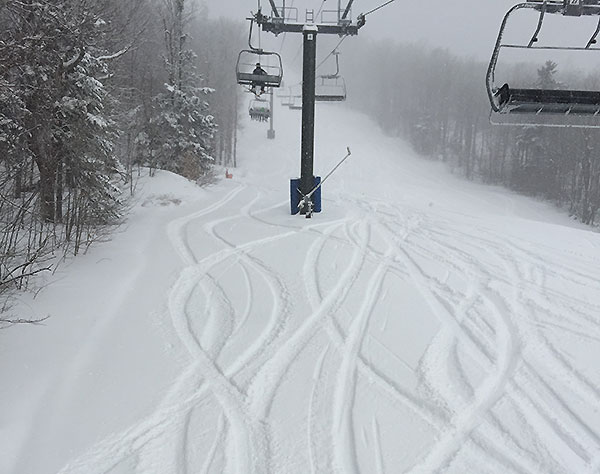 Just a few tracks on Twister at Bromley. Other trails were untracked
and had powder up to 2 feet deep in places!!
---
Katherine Dempsey Rocks on the Race Course
The weekend of Jan. 7-8 was a fun time for all and included some great racing on Stratton's North American race course.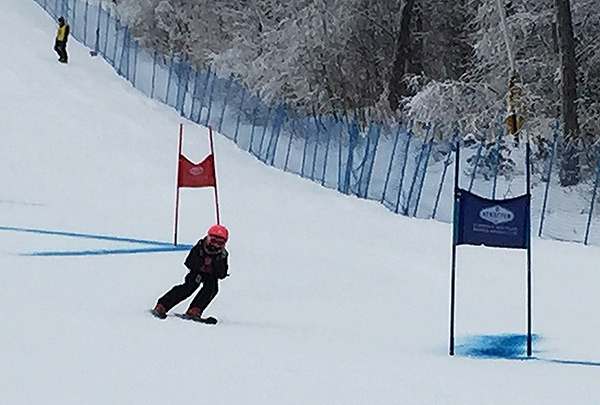 Katherine powers down through the final gates.
Click on the image to see a video of her run.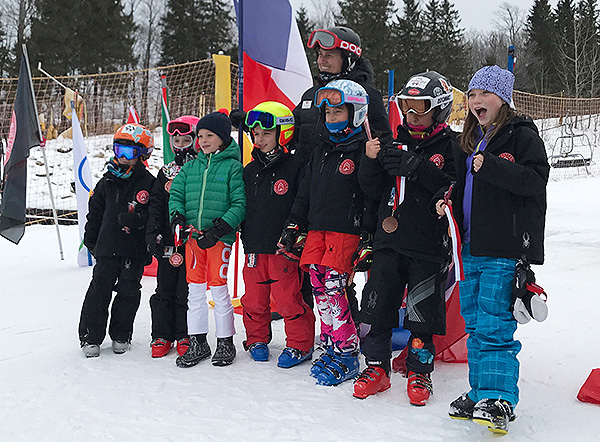 Katherine's team showing off their medals. She is 2nd from left.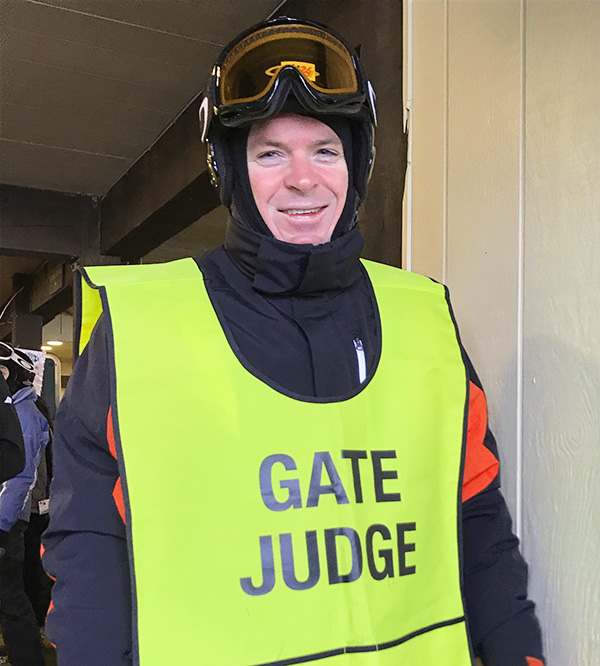 Dave was a gate keeper for the races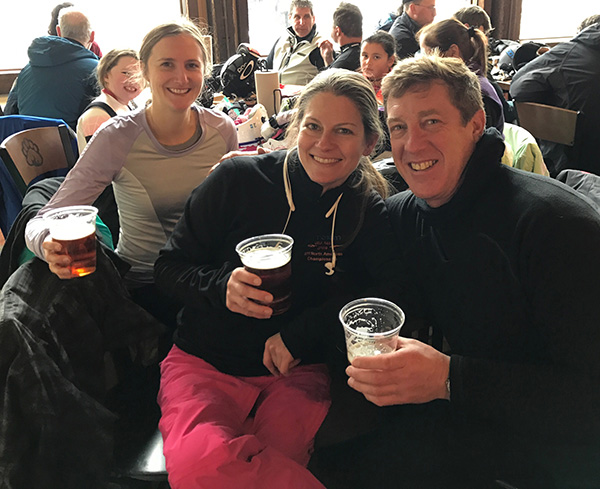 At Grizzlies after a fun day on the slopes
---
A Major Snow Storm Came for Christmas!
A major storm hit the end of the Christmas Week bringing a foot of much needed fresh powder. It made for a fun day of snow shoeing during the storm.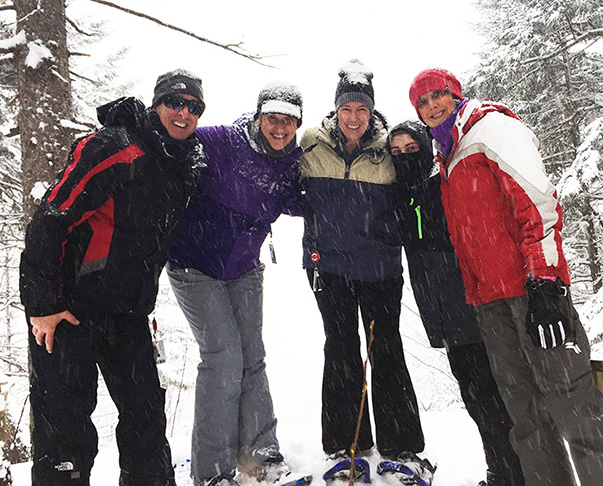 A fun hike to Lookout bench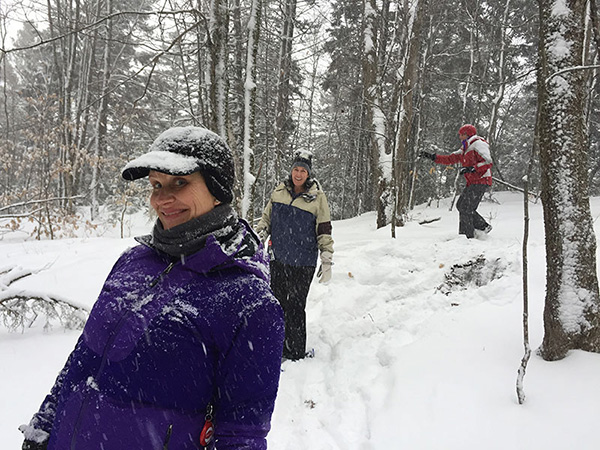 Breaking a new track coming home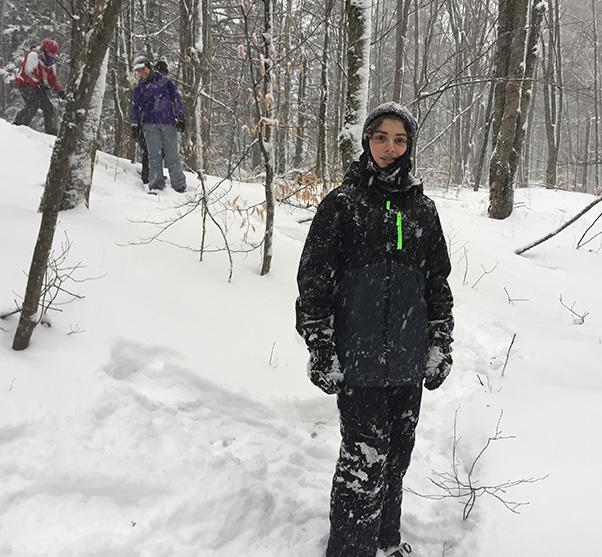 Brian led for a good part of the return trip
---
SKI SEASON IS HERE!!!
Killington Day Trip was FUN!!!!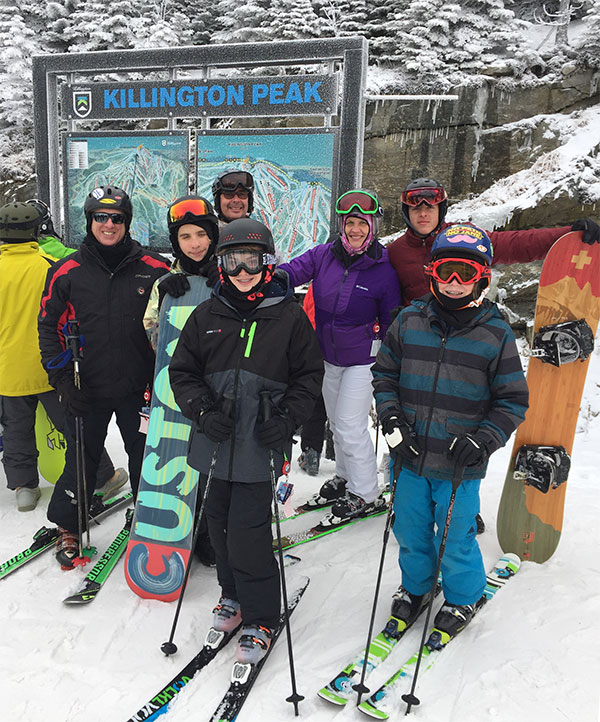 A trip to Killington was a highlight of the Christmas week for the Eagle's Next gang.
---
SCENES FROM THE 2016 SKI SEASON
Katherine (left) and Mike and Matt skiing (right) during Christmas Week

Aidan, Matt, Katherine and Jack get ready to ring in the New Year

Tom, Brian and Aidan are all smiles during Christmas Week
---

Fall-2015 - GOOD TIMES ARE HAD WHILE SUPPORTING THE STRATTON SKI PATROL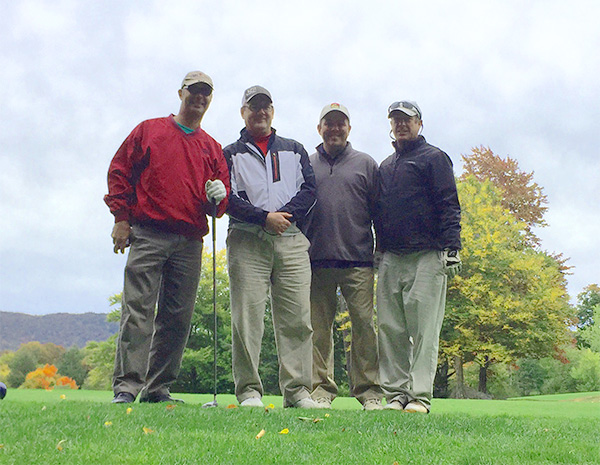 Tom, Rob, Brannen and Rand were a competive foursome shooting a score of 1 under par
at the first Stratton Ski Patrol Golf Outing held Oct. 2nd at the Stratton Mountain Golf Course.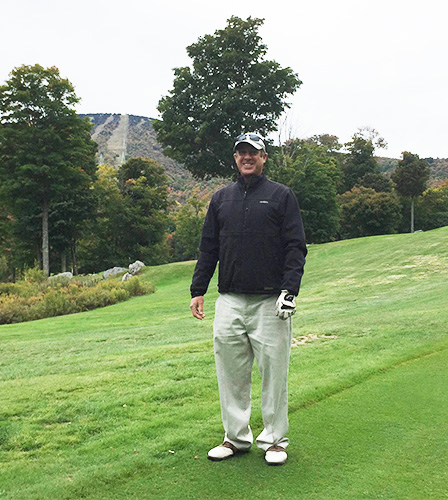 Tom and Rand with Stratton Mountain in the background. We can't wait til it's covered with snow!!
---
Tom and Rand Make Repairs to the Deck on October 3rd
A concrete footing supporting the deck shifted a bit and so Tom and Rand dug out the old footing, dug a deep hole, drilled deeper holes for rebar, and then poured fresh concrete.

With a load of fire wood ordered as well as other house maintenance items planned during the fall, the upcoming ski season should be great!
---
News and Stories from the 2014-15 Season
GOOD TIMES DURING THE 2015 MLK WEEKEND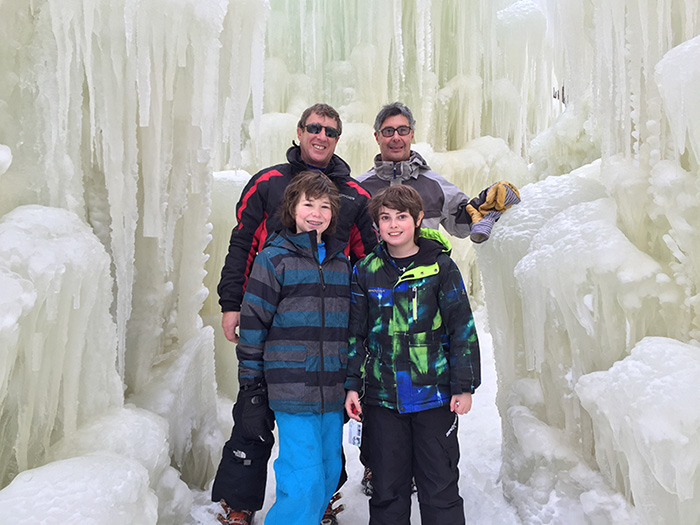 The Sun Bowl featured a large snow castle that Tom, Aidan, Brian and Rand explored. It was cool!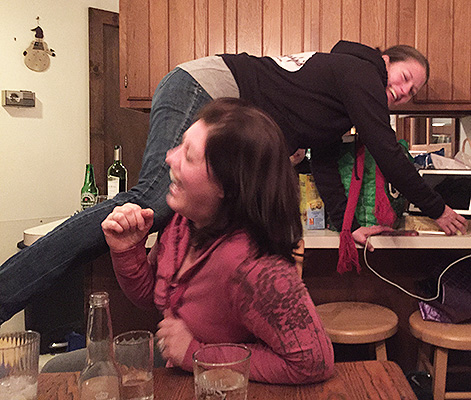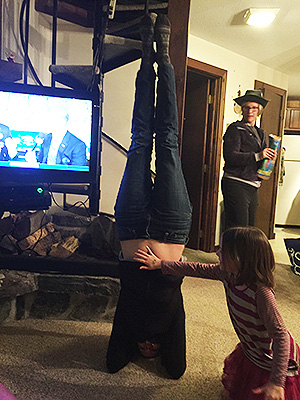 Amy and Liz having fun (left). Liz does a headstand while Katherine and Cindy look on in wonder (right)
---
GET PSYCHED!!! THE 2014 SKI SEASON HAS ARRIVED!!!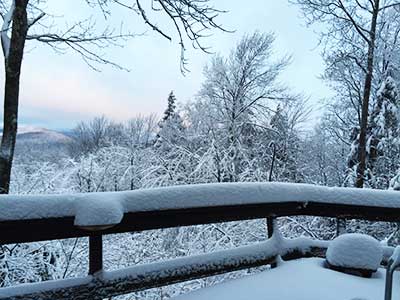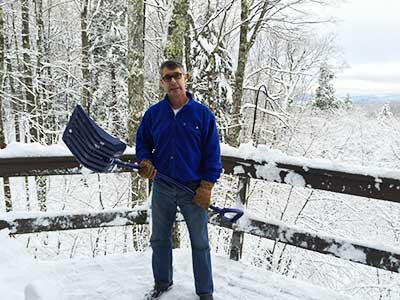 Before and after shots from the fun weekend of Dec 13-14, 2014. Thanks Tom for shoveling the deck!
---
FUN PICS FROM THE 2013-14 SEASON BELOW:
The Dempsey Family - Good Times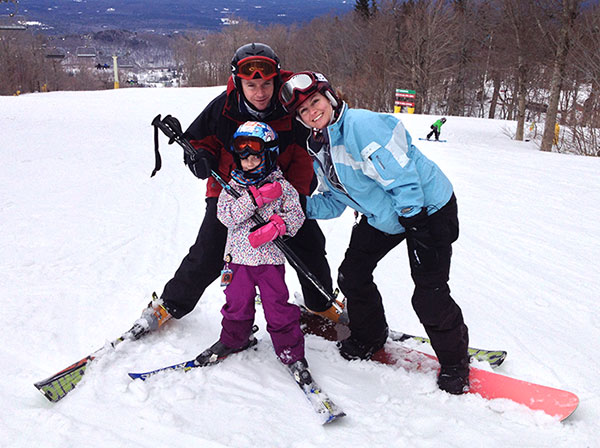 ---
SKI SHOT DEMONSTRATION
---
| It's Liz - She can be Nice... | Tom R., Mike & the Turkey Fryer |
| --- | --- |
---
Here are some fun shots taken from the 2012-2013 season!

---
An Evening with Mustaches...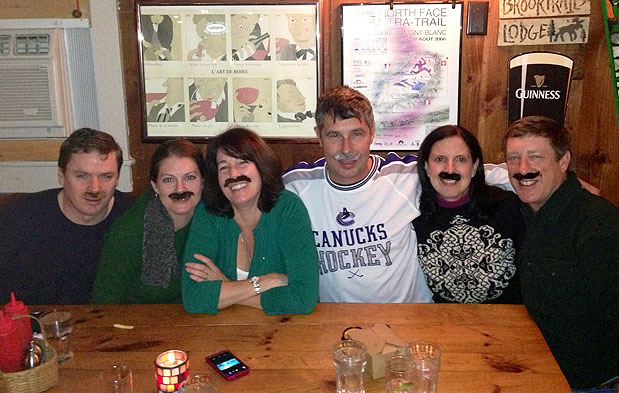 ---
A fun hike down to Lowell Lake on a day off from skiing!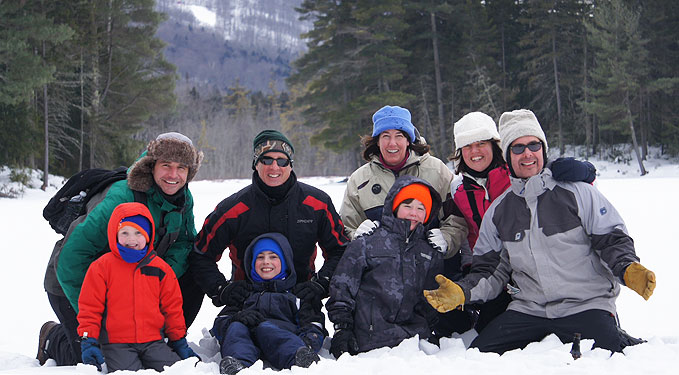 ---
This is how we do the Harlem Shake in Vermont!!!
---
Nemo drops a foot of Snow on Feb. 8th!!!

The big snow storm that buried much of the Northeast gave outstanding conditions and provided a great weekend of skiing and snowmobiling. Unfortunately, Karen got hit by an out of control boarder and suffered a mild concussion but she should be fine soon. Pics below are of Tom who went out with Rand and Dave at the height of the storm, and Dave and Rand at the top of Stratton on a gorgeous day with perfect packed powder.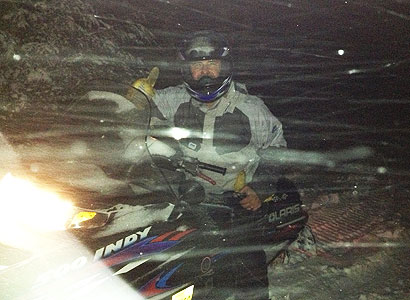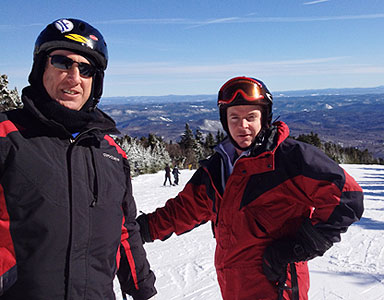 ---
The "Official" Ski House Theme Song
---
The long MLK weekend was a good time for all. The ski conditions were great and the kids had
a good time both inside and outside playing.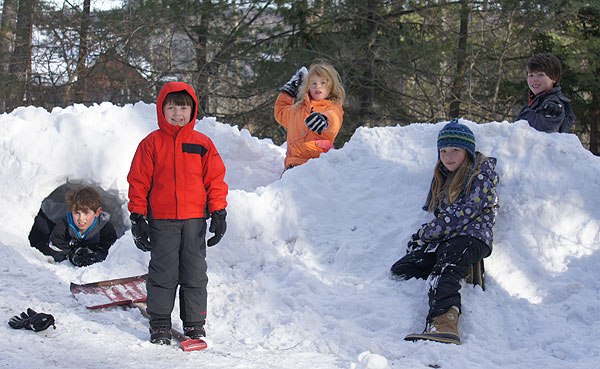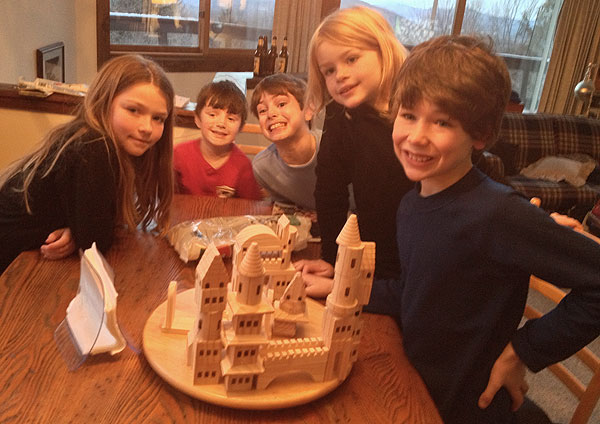 ---
The Christmas and New Years holiday week was great fun for all - by Tom
It was a great week in Vermont with upwards of 28" of fresh powder. We had plenty of guests at the house but they came and went so there was never an overcrowding situation. Rand's turkey was a special treat on Saturday night however it was slightly overshadowed by Mike Fletcher's stuffing. Chef Fletcher and his army of souse chef's spent the day slicing and dicing and the meal was fabulous. Snowmobiles were in use as the VAST system is in great shape from the new snow. New Year's eve was lots of fun with a special countdown for kids new years eve followed by the real one for adults. Hot tubbing, skiing, eating, drinking, snowmobiling, Perudo games...all safe from crazy drivers and cops.... at our winter home surrounded by lots of snow in the Green Mountains of Vermont. It just does not get any better. Enjoy the pics below...
---
December 2, 2012 - It turned out to be a "Boy's Weekend" with Tom, Aidan, Brian and Rand. We were treated to no lift lines, no crowds, and fantastic conditions!

It looks like winter has started early and should hopefully turn into an epic season of fun and good times with friends.

Tom took the pic at left as we all headed off to ski Spruce. Brian had a great time and kept up with us on all the black trails. Either he's getting real good or Tom and I are getting old and slow!