SCENES FROM THE 2018 SKI SEASON
Last March & April Brought BIG Snow to VT
As we wind down another fun season, below are some fun pics from March and April which saw a total
of over 5 feet of new snow making for excellent end of season conditions. Great times were had by all!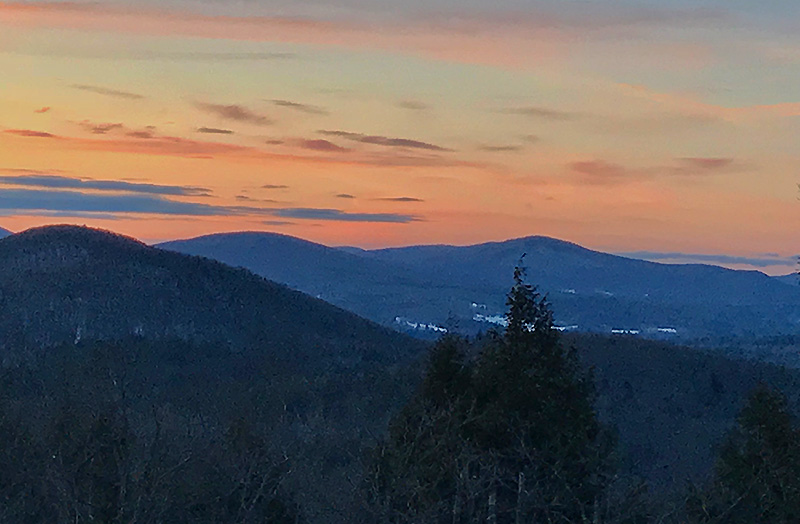 One of many nice sunsets from the deck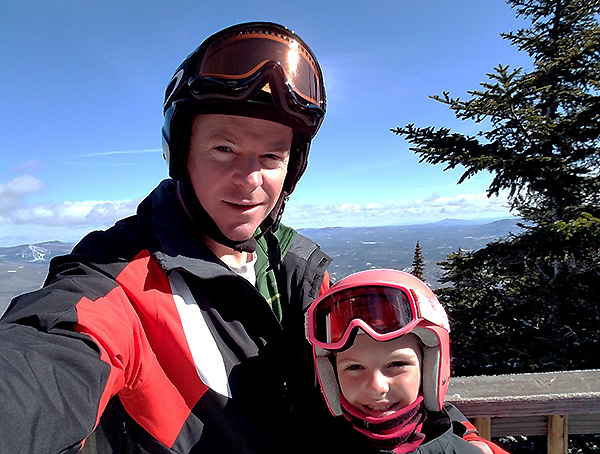 From Dave: Katherine and I at the lookout tower off Grizzly Bear on 4/8. We had 7" of light powder overnight Friday into Saturday and the trees and bumps had feet of powder blown in. Sunday was perfectly groomed packed powder with temps right around freezing.Katherine attended a Slalom focused training camp hosted by SMS on Saturday with video analysis after skiing. I think I picked up more tips than she did. Awesome weekend.
Rochelle and Lynn, one of our guests, enjoyed snow shoeing out to Lookout Bench off the Keith Trail

Rand, John, and Tom enjoying some wings and beers after a great day of skiing

Rand & Brian at Bromley with Stratton in the background. Right - Jack and Katherine compare heights. He may be taller, but as a racer she's faster on the sloops than probably all of us!

Brian falls into some shrubbery while Aidan looks on as they head into doing some tree skiing

L-R: Aidan, Rand, Tom, Brian and J.D. (Brian's friend) at Stratton on a powder day

Tom's new passion - reading some fine romantic novels given as a gift for his birthday.
Right - Rand shoveling after a dump
---
Katherine Rocks the Racing Circuit at Bromley
Katherine had her best race at Bromley on Feb.11th. Out of 45 girls competing, she was in 4th place after the first run and, after reversing the start order, finished out the event in 8th. Her goal this year was to make the top 10 so maybe rain and fog is her thing. Link to results http://www.live-timing.com/race2.php?r=184162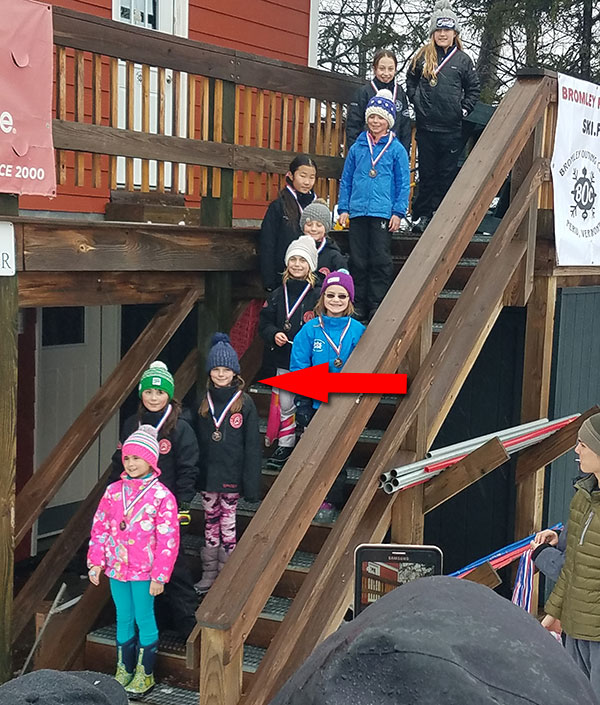 ---
SNOWY FEBRUARY
Early February brought a couple of feet of snow making for outstanding conditions. Below are a couple of pics taken by a Rand on a powder day.
| | |
| --- | --- |
| | |
| Hot Tub buried in fresh powder | Hot Tub unburied and ready for use |
---
Christmas Week - Great conditions but frigid temps down to minus 20 during the week did not deter us from getting out and having a nice time with Dave, Katherine, the Reinhardts and T1.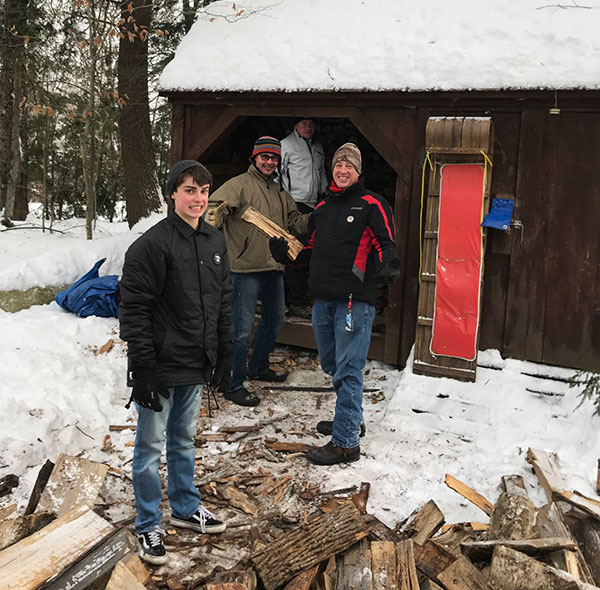 Brian, Tom, Dave and Rand load wood in the shed.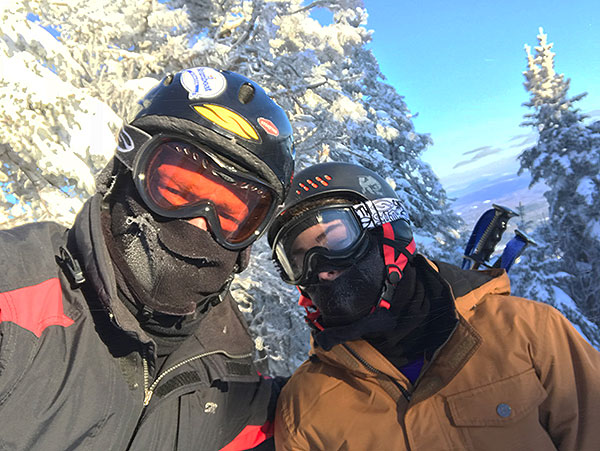 Rand and Brian all bundled up at Stratton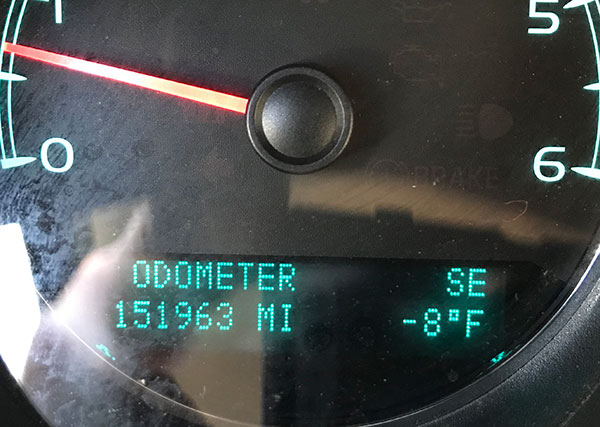 Mid-day temp at the ski house. Brrrrr....

Rand and Rochelle out for a hike...
---
Breaking News.... Bromley had a serious fire in their snowmaking pump house knocking out snowmaking to the entire mountain. Click HERE to read their letter. The latest update has snowmaking resuming on January 8th.
---
From Rand - Great conditions, no lines, parking in the garage at Stratton, seeing old and new friends, made for a nice weekend of Dec. 16-17. The weekend before Christmas is one of the best as most people stay home to do their holiday shopping. Dave, Katherine, and Rand had a fun time.
---
From Tom - Thanksgiving weekend - Stratton had 5 trails open and was working on opening more….Black Bear, Polar bear, North American, Spruce and the meadows to the base. What was open was in great shape and Dave, Katherine, Aidan and I had a blast. It was good to get out on the slopes.
---

With Thanksgiving over, it's now it's time to think about winter
and all the fun that comes with skiing, snowboarding, snowshoeing and snowmobling.
---
SCENES FROM THE 2017 SKI SEASON
---
First Weeklend in March, 2017- COLD and FUN
While the weekend was pretty cold, the conditions were pretty good. And we all dressed accordingly so it was a good time on and off the slopes. Plus, the cold temps scared many and so there were no lift lines.

Stratton had the Luster Kings perform at Grizzley's which was good as the qualty of music is a big improvement over the Stratton Mountain Boys of years past.

Liz showed off how she kept her head warm. The question is, "Does she have a matching Burkini?
---
President's Week 2017- Full House and FUN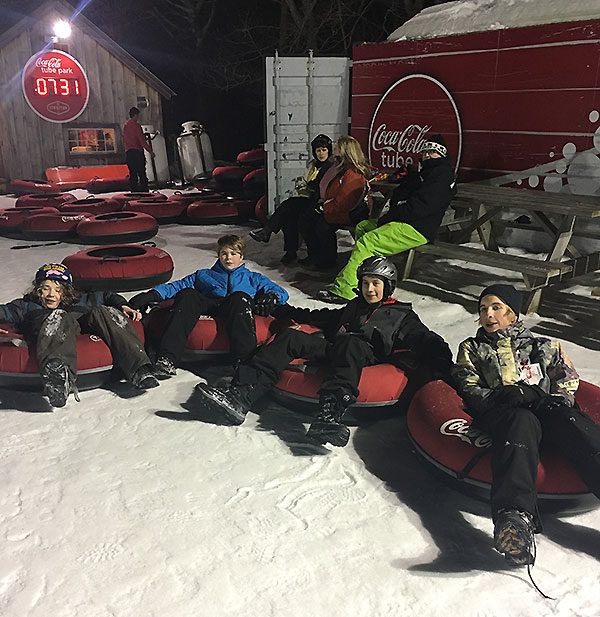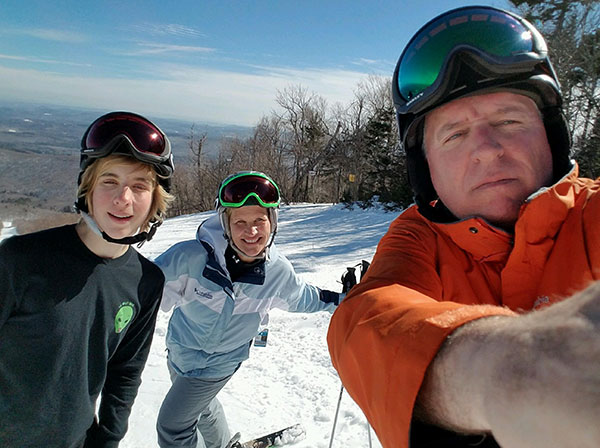 ---
Fresh Snow Makes for a GREAT Weekend
The weekend of February 11-12 was a fun time for all with all the fresh snow. Kudos for Katherine racing as she came away with a first place medal on Saturday at Stratton. Rand was fortunate to get to stay an extra day on Monday as its snowed well over a foot Sunday into Monday. Below are Monday's pics.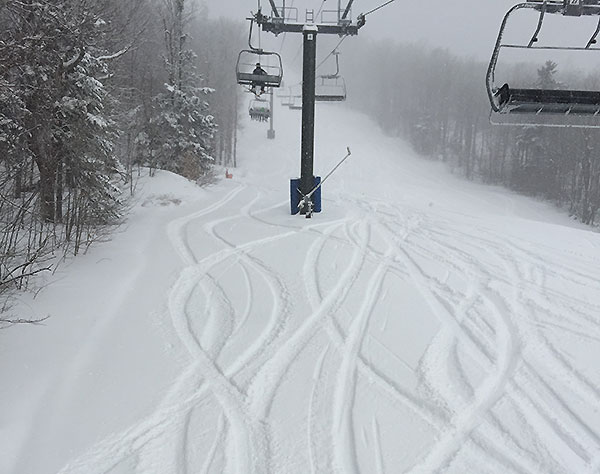 Just a few tracks on Twister at Bromley. Other trails were untracked
and had powder up to 2 feet deep in places!!
---
Katherine Dempsey Rocks on the Race Course
The weekend of Jan. 7-8 was a fun time for all and included some great racing on Stratton's North American race course.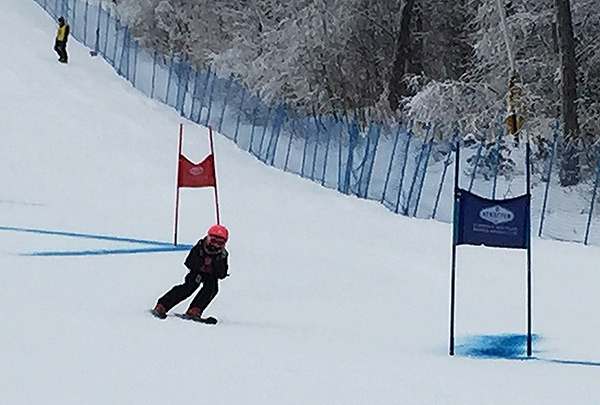 Katherine powers down through the final gates.
Click on the image to see a video of her run.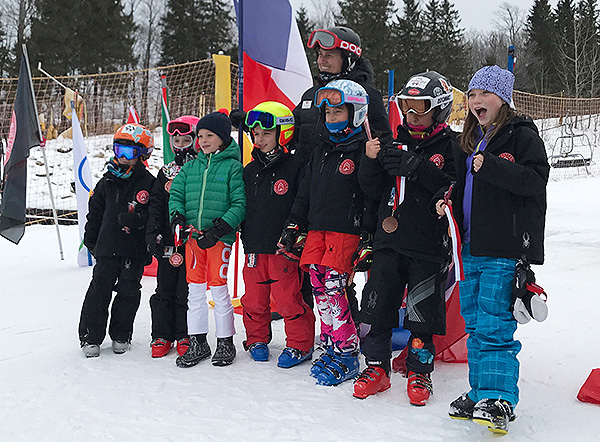 Katherine's team showing off their medals. She is 2nd from left.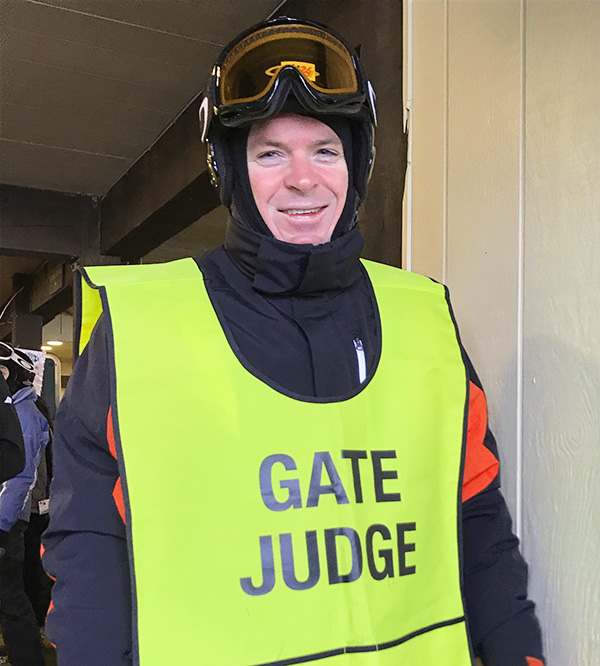 Dave was a gate keeper for the races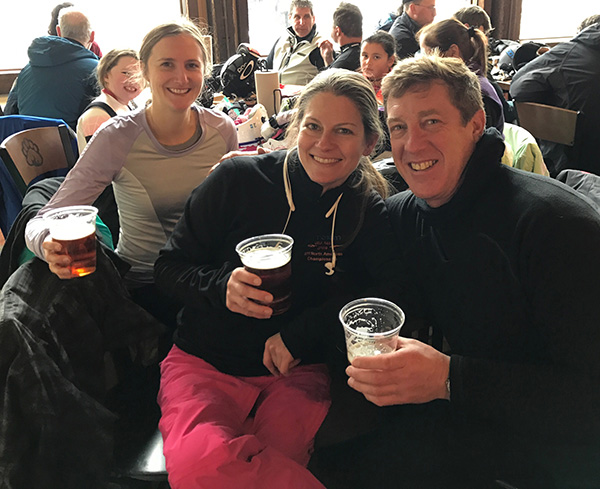 At Grizzlies after a fun day on the slopes
---
A Major Snow Storm Came for Christmas!
A major storm hit the end of the Christmas Week bringing a foot of much needed fresh powder. It made for a fun day of snow shoeing during the storm.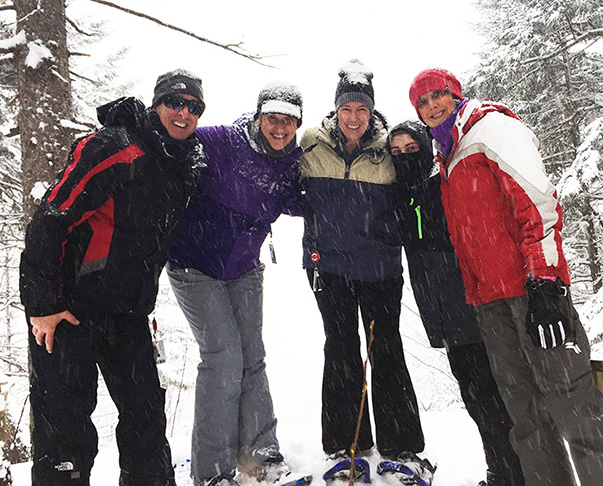 A fun hike to Lookout bench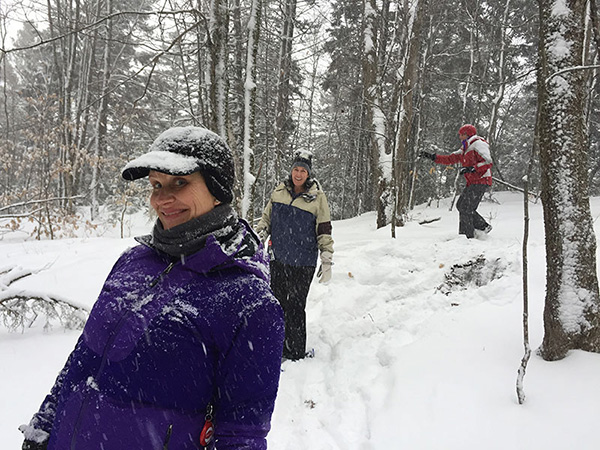 Breaking a new track coming home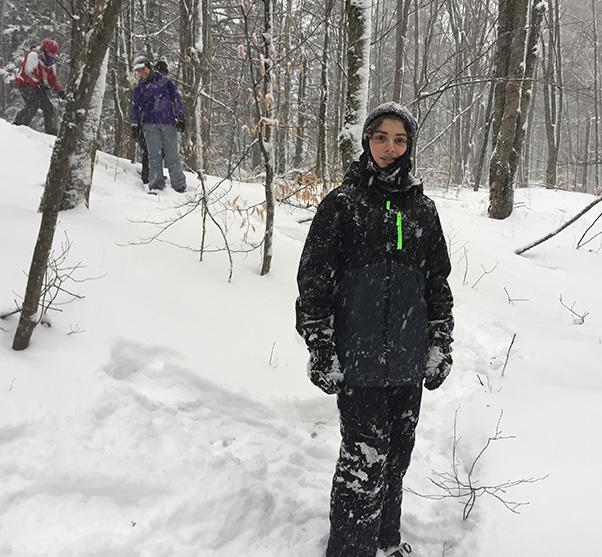 Brian led for a good part of the return trip
---
SKI SEASON IS HERE!!!
Killington Day Trip was FUN!!!!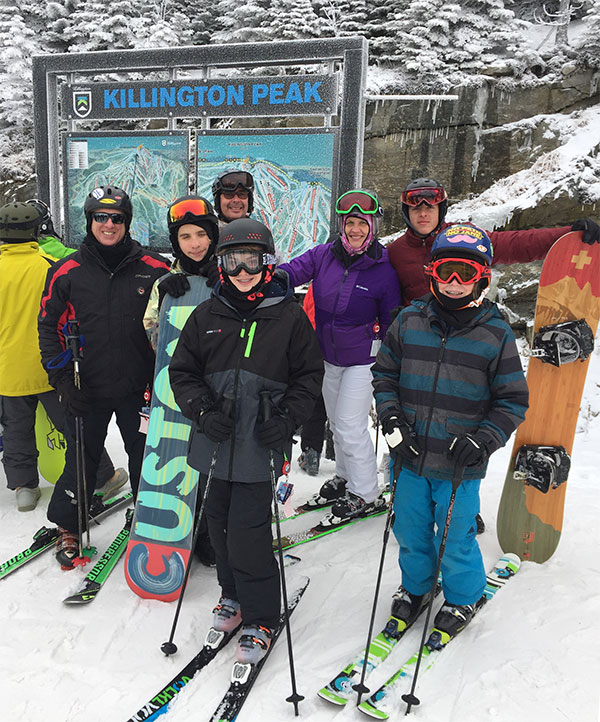 A trip to Killington was a highlight of the Christmas week for the Eagle's Next gang.
---
SCENES FROM THE 2016 SKI SEASON
Katherine (left) and Mike and Matt skiing (right) during Christmas Week

Aidan, Matt, Katherine and Jack get ready to ring in the New Year

Tom, Brian and Aidan are all smiles during Christmas Week
The long MLK weekend was a good time for all. The ski conditions were great and the kids had
a good time both inside and outside playing.