March 30-31 Weekend - Stratton Pond Skim
Dave and Katherine too part in the annual Stratton Mountain Pond Skim. While Dave made it accross with style, Katherine came up short... possibly due to a bad tune and incorrect wax. Enjoy the videos below:
---
March 9-10 Weekend - Racing, Magic & Stratton
Another great day at Bromley as Katherine raced in the Sun Mt. Shootout in Slalom; Tom, Aiden and Dave enjoyed a sunny day on the slopes. Tom seems to like the yellow look with his apres ski beer. Afterwards, there was another amazing steak dinner at the house followed by a spirited game of Perudo.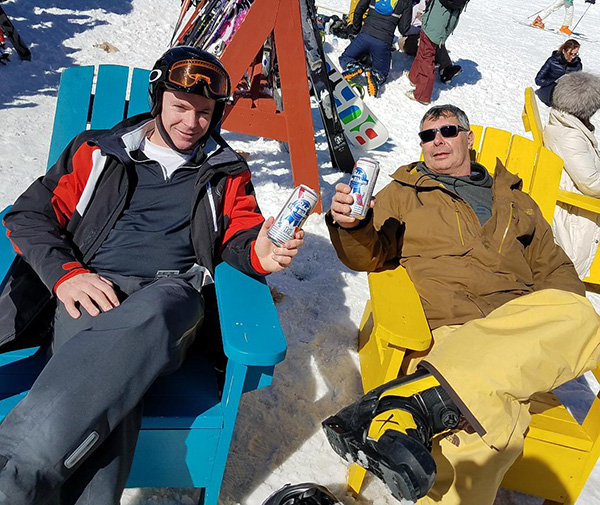 Rand skied with Brian (who took a cool panaramic shot below) at Stratton.

---
Feb. 2-3 Weekend - Ribs, Skiing and Snowmobile Fun
Conditions continue to be good for all winter activities, and thenweekend included a fun snowmobile trek by Tom and Rand up to the top of the old and defunct Timber Ridge ski area. Dave made awesome slow cooked ribs with his special and secret dry rub ingrediants that was a highlight of another fun filled weekend.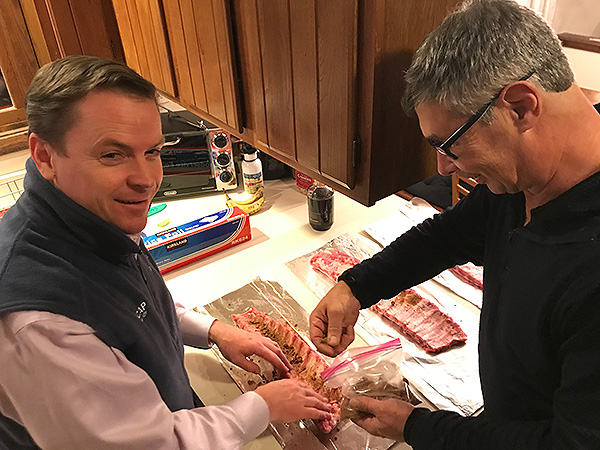 Dave and Tom apply the secret rub to the ribs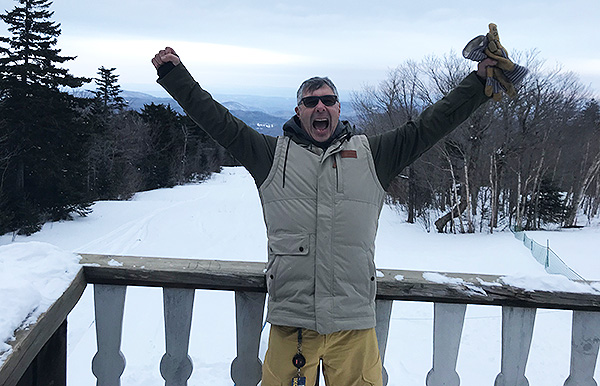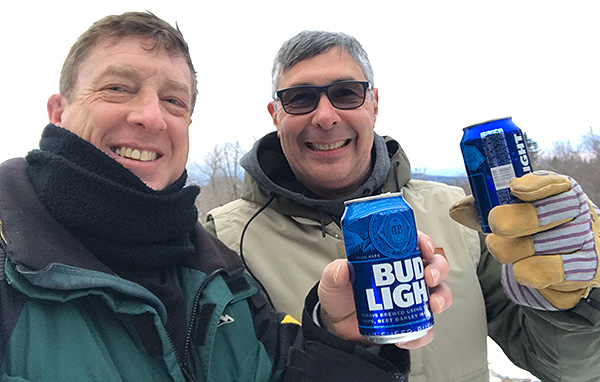 Rand and Tom atop Timber Ridge - "Dilly Dilly!"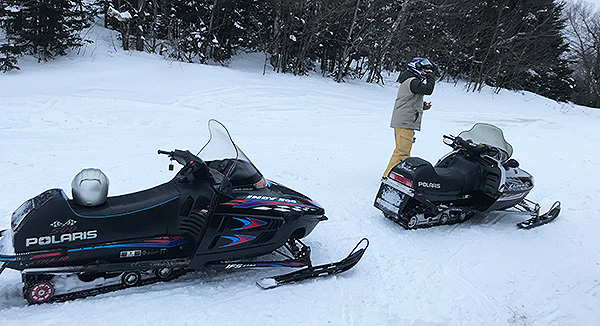 Getting ready for the return ride back home
---
MLK Weekend - Tons of Snow and Excellent Conditions
The three day Martin Luther King Weekend featured a dump of two feet of fresh powder. Conditions were great although Monday had temps at Stratton at minus 13 with a nasty breeze making for dangerous windchills. Regardless, Tom, Dave, Rand, Katherine and Aidan braved the cold for some excellent skiing!
Katherine, Aidan and Nicos did some sledding at the house, and Dave's friend Lisa had a party at her house that featured our trusty shot ski made from one of Dave's old skis.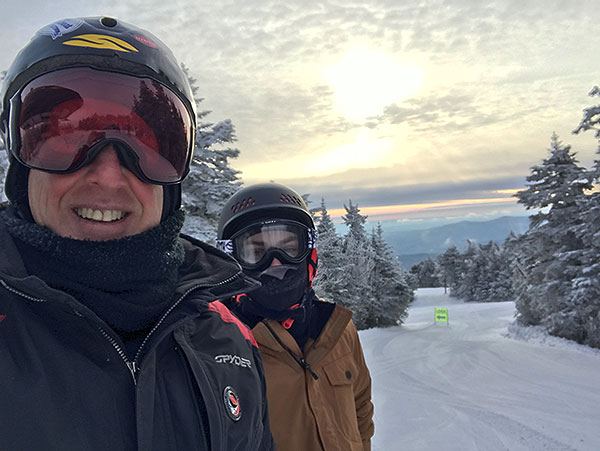 Rand and Brian out early for first chair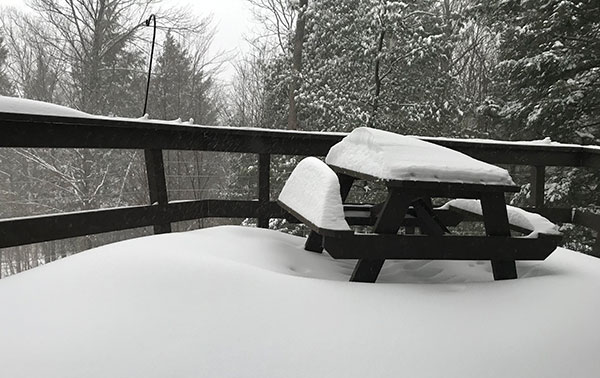 Lots of snow on the deck!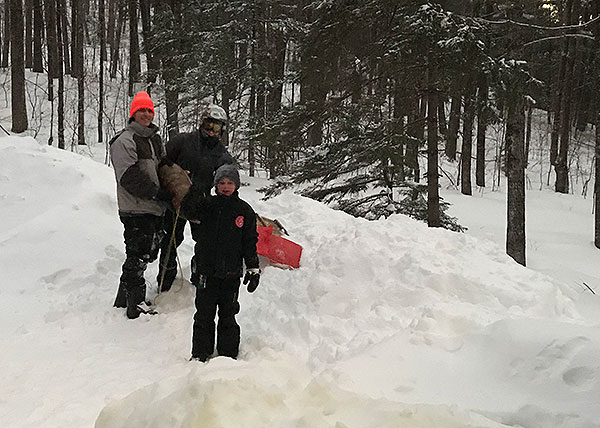 Sledding at the Eagle's Nest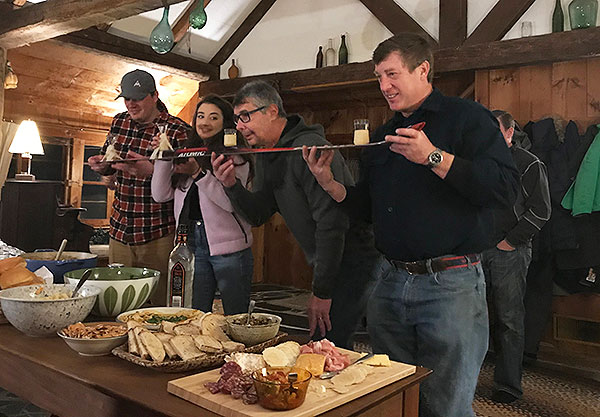 More shot ski fun
---
Holiday Fun!!!
While the Christmas/New Years weather was not the best of conditions, we all had fun. A highlight was seeing Deadgrass play at Magic where a nice crowd assembled for some great music and a visit with their shot ski.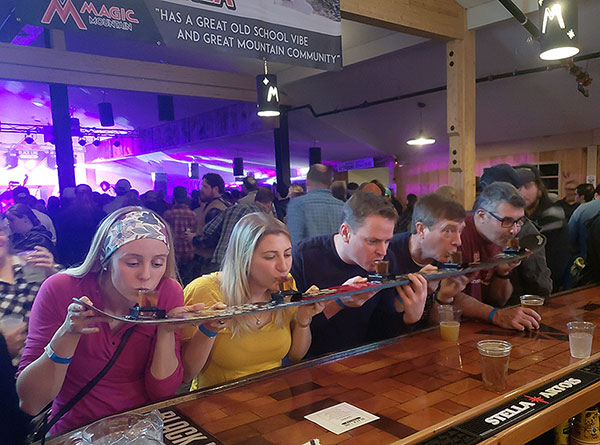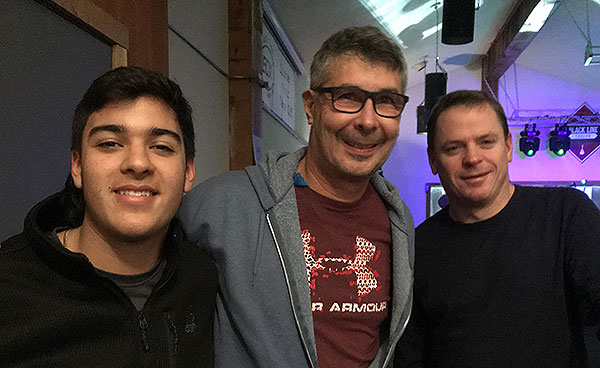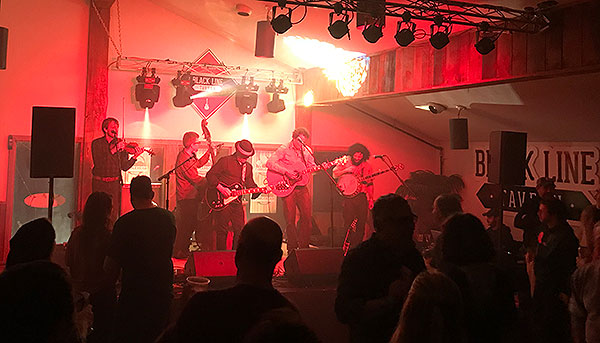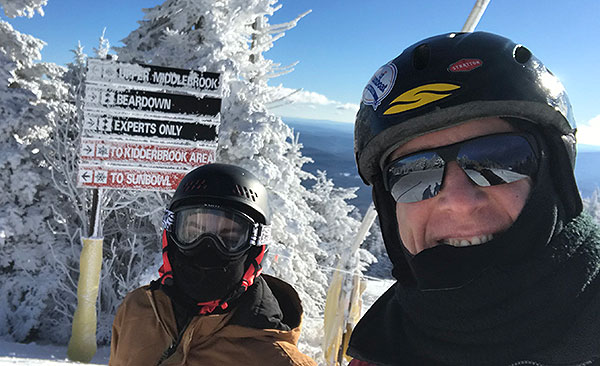 ---