SOME FUN PICTURES FROM 2008
---
TONS OF SNOW FOR THE FIRST WEEKEND OF MARCH, 2008
By Rand Milton
March 10, 2008 - Another major dumpage of 2 feet brought out the best powder skiing of the season! Plus, the trails around Powder Mill made snow shoeing a lot of fun as well as a good work out. The toboggan run was tamped down by snow shoes and made for an exciting ride all the way out to the road.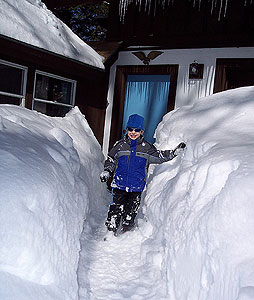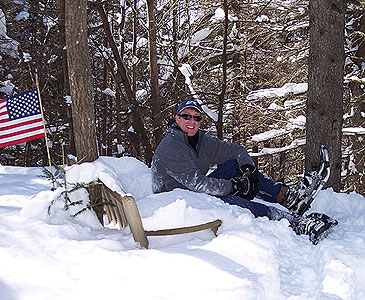 Brian is all smiles with all the snow. Rand takes a well earned break at "Look Out Bench"
---
THE 2007-2008 SEASON IS SHAPING UP TO BE THE BEST IN DECADES!
By Rand Milton
Jan. 7, 2008 - With major dumps of snow during the Christmas break, conditions have been ideal. All of the mountains in the area have all their runs open in what many are calling "one of the best ski seasons" in a lond time. Coupled with good friends, great times were had by all.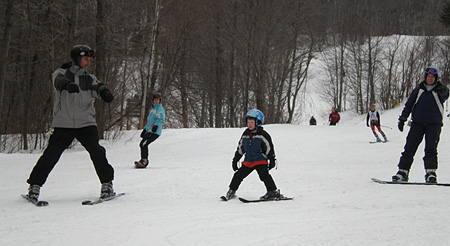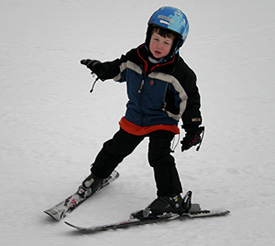 Aidan, taking instructions from Tom, shows nice form while Karen and Liz (light blue jacket) watch. A close-up shot shows Aidan's fine wedge form.
| | |
| --- | --- |
| | There is hope for Dave's drinking habits as he happily drinks a Heineken. Never in our wild dreams would he be seen with anything other than a Bud in his hand in prior years. |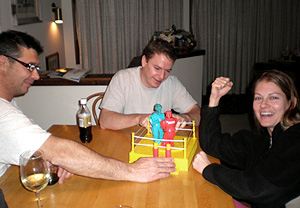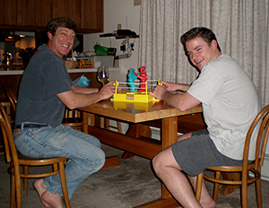 Rock 'Em Sock 'Em Robots is a hit with Liz (flexing her bicep) aka "the champ" after she knocks Tom's
block off. Rand and Dave enjoying a preliminary round.
---
ARE SOME OF THE BEST SKI CONDITIONS TO BE HAD IN NOVEMBER?

By Tom Montalbine
Nov. 26, 2007 - I have said it before, skiing in November and April are some of the best times to ski. The temperatures are usually mild, crowds are minimal and conditions are good. Last year was an exception but almost every other year in the past I have skied in November and had some great days.
This year was possibly one of the best in a long while. Karen and I skied at Okemo on Thanksgiving weekend and they had more trails open that I expected. What was open was in great shape and had good coverage. The upper mountain had two trails open at the Sun Bowl and there were at least 6 trails open in the middle of the mountain including my favorite run, World Cup. They even had Solitude open with two runs. No lift lines to speak of and while it was cold it climbed up to 45 degrees during the day. No lines deal with at all.
Okemo has instituted a NO BAGS IN THE LODGE policy which is similar to what Stratton did a few years ago. They closed off the doors that everyone used to go in and out of so you can only go in and out of the front doors over by the ski shop and out the back doors over by the Sitting Bull. This policy is a royal pain in the ass as you have to either hoof your skis over by the mountain then make your way back inside to get your boots on or you can leave them over by the ski shop and then you have to walk out the front to then hoof back to the slopes. I am not sure if this is some kind of trend that all mountains are going through but if you go out West, most of the resorts do not have a Main Base Lodge where you can store your gear. Most people out west just use their cars to store their gear and they get dressed in the parking lot. If you want to store your bag for the day you have to find one of the few remaining cubby holes (they moved most of them upstairs) or get a locker (not too many of them around) or pay for a basket rental (which looks like it will be crowded and a waste of time).
Back at the ski house Dave Dempsey and I installed a new microwave oven over the stove. We had to move the spice cabinet up 6 inches and Dave rigged the fan vent so that we did not have to cut another hold in the outside wall. It was quite an engineering marvel when he got through. This gives us more counter space in the corner so we are going to ask everyone to put their food on the counter in the corner instead of on the island over the dishwasher. Dave also helped put away the summer furniture off the deck, split firewood and helped with the hot tub maintenance. Thanks Dave!
On Friday night after Thanksgiving we went over to the Ploch's residence and had a big party. The Ploch's and Beckers had a giant bowl of Stone Crab Claws flown up from Clearwater and we gorged ourselves like pigs feeding at the troth. Incredibly delicious. Then we threw on the steaks and ate a tremendous meal that was better than Thanksgiving day!
Liz Dempsey has discovered a new party game that we can play at the house. We played the boys vs. the girls and ended up tied 2 games a piece. We did not go for the tie breaker because it was getting pretty competitive and the boys did not want to hurt the girls feelings.
Drank lots of wine, ate lots of food and skied on lots of snow. It was a great weekend!
---
HAPPY NEW YEAR AND BEST WISHES FOR 2007!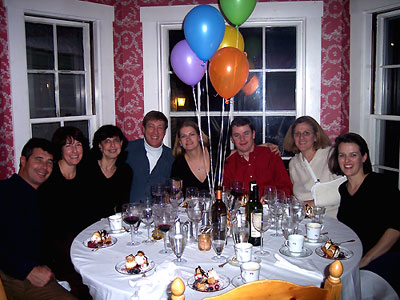 A great meal was had New Year's Eve at the 3 Clock Inn
---